Are You Overworked?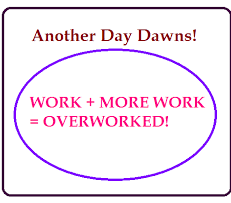 Are you overworked? Do you feel like you just can't get everything done? Unfortunately, being overworked can have a negative impact on your health, your moods, and your overall quality of life.
We all from time to time have the feeling of wanted to throw in the towel, get away, go off the grid, wishing there were more hours in the day. Do you ever feel this way? If so, your probably overworked. There is no better time than the present to start putting yourself first. Take the time to relax, mediate, work out, shop, or just get away.
Many experts say that stress from being overworked can cause serious health and well-being consequences. Here are a few signs to look for.
A Few Signs that you're overworked…
Your feeling stressed, anxious, frustrated, or lack patience.
Your irritable or moody.
Have troubles sleeping.
Your depressed.
Being overworked can make you feel tired. When you're tired we often make poor diet choices or rely too heavily on caffeine. Too much caffeine can leave us feeling irritable, weaken our immune system, makes us sick, and leads to more stress and depression. Unfortunately, being overworked has a trickle down negative impact which can consume and alter our lives.
A few steps we can take to take control…
Be present in the moment. Remember, sometimes you have to slow down in order to speed up.
Go for a walk/run.
Mediate/Yoga
Listen to music
Read a book
Do something you truly enjoy.
Take time to breathe.